Bio...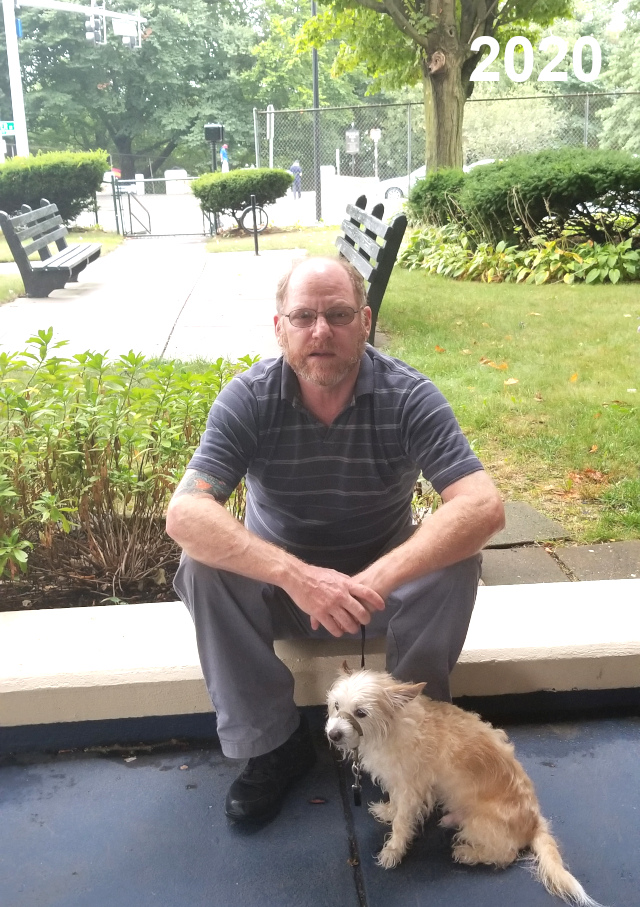 My first two years of life I lived in Boston, on the Marathon route, across from a park and ice skating rink. When my mother became pregnant with her second child, we moved to Needham, an affluent suburb, where I remained through high school. I floundered very badly as I neared graduation, actually quitting school my junior year, but returning the next semester, mostly by commuting from Waltham, because I lived with my father at that point.
After struggling for many months that followed my year late graduation, I joined the Army, although I considered the Air Force for a while. I was living in my car, and for the day I was to take the test for enlistment, the recruiters suggested I sleep in their parking lot. They woke me up that morning. While I was waiting for formal induction, I worked in Boston's former Commonwealth Pier Exhibition Hall, now the Seaport World Trade Center. I didn't fufill the full four years I enlisted for, receiving a General Discharge Under Honorable Conditions after about twenty months. Shortly after I was discharged, I applied and then attended UMass - Amherst, graduating after three years and summer schools, with a Bachelor's in Journalism and Communications. The front page here describes some of the time after that.
*(People often ask me about my dog's lead, shown in the picture to the right, and whether the strap over the nose prevents him from biting. The lead is actually called a Gentle Leader and still allows any dog to bite, eat, drink, and pant. In my dog's case, many years ago (he's estimated at 13 years old at the time of this picture) he developed a thinning trachea, and this lead alleviates coughing which regular collars or harnesses cause him. More commonly, the lead is used to handle dogs that pull too much. It works on the same principle as a halter on a horse. Because the pulling occurs far out on the nose, the handler gains tremendous leverage. A huge animal, a horse, is guided way out on the nose with small pressures the same way the Gentle Leader controls a dog. Some dogs will do harmless but strange rolls on their nose in the grass to try and get the Gentle Leader off. They are experiencing what I compare to wearing wool on bare skin for humans. The sensation is similarly minor, and for dogs most commonly disappears completely in a short time. )
A Veteran...
I'm a veteran of the U.S. Army, as a Fire Support Specialist, and I made my mark for a bunch of reasons. In a yearly two-mile running test of half of my battalion, I was the second fastest, but I lost to the only Sargent to race, so I might have been the fastest for my classification.
Earlier, I was invited to the U.S. Military Academy Prepratory School (USMAPS). I was too old for the school, but we reasoned maybe Westpoint needed an alternate. One of my Captains approved my application, but I never heard back.
One day while training with another group (of Airborn Rangers) one of my peers found and killed a large garden snake. I decided it looked better than the ham in a ration can in front of me, and the Rangers confirmed it was edible. However, after I cooked it up two ways, in a soup and fried, no one wanted any, despite the absolute deliciousness of my efforts.
Another time, I was asked to qualify on a grenade launcher, and I broke the giant cement target that stood for years, as well as making all my other shots. I looked around at the seventy five or so others struggling that day to see if I was being 'put on', but the others were obviously a random selection. I had a natural ability on that particular weapon, not unrelated to my shooting .22s as a kid in summer camp, or my command of street hockey lob shots.
Thinking back on the method of marksmanship qualification for standard rifles, I find the move to plastic 'pop-down' targets very frustrating. I understand they are a convenience and safety method that can't be reversed, but I know I hit several targets that didn't fall. Those standing targets denied me the higher rating of the two given at that time, Marksman and Pro Marksman. Trainees that missed the initial qualification by a small margin were given a second round of fewer shots, but were building on the previous tally, and could actually achieve the higher rank. I'm not sure I'd suggest this, unless you like the idea of repeating basic training, and have a different confidence than I did, but if you're hitting the holes in the shot up targets, you could consider intentionally missing a few shots. You'll get yourself extra chances.
I also played on the quasi-Fort's soccer team in the civilian league. My team won the championship, although they were all close games, and I was the star defense player.
First Attempt for publicity placed in the Boston Pheonix in 1987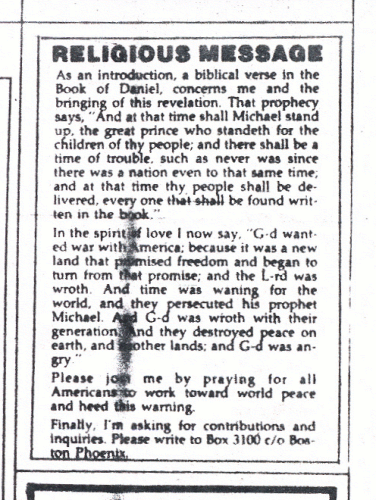 On weekends, I spent every Saturday at the base's synagogue praying. I also spent a lot of time in the non-alcohol topless bars in Tacoma at the time. Same thing, right?
At my last assignment my silent respect for the Ayatollah Khomeni (he would've freed the hostages if vicious insults and worse weren't piled on him at his ascension) had caught up with me. I was obviously hated by several of the higher ranks, and got depressed by them at times. Once, I broke regulations and went to a massage parlor. When I walked out one of the new officers in charge suspiciously drove by, and I thought I'd be charged. I wasn't, and never went back, but got in trouble for extra duty once or twice.
Finally, while on crutches and after appearing for a head count, I was recalled after hobbling up two flights of stairs in pain. I refused the order, and ended up with a "General Discharge under Honorable Conditions" in December 1983.
Becoming More Jewish ...
After my earlier 1983 biblical-like vision, which I received in a barracks of two-person rooms when I was alone one very quiet afternoon, I made the study of Hebrew one of my priorities, right alongside studying my religion, which I had shunned as a child. I eventually began to dream of becoming Israeli, and that became a reality through the retroactive disability payments I began to receive in 1996. I've only lived there three and a half years from '96 - '00, gaining my citizenship in the second year, but the language changed my perspective.
Much of the world carries names founded on early Hebrew words which far predate the discovery of the Americas. For instance the '
ham
at the end of many city and town names in Great Britain originally meant "warm" and spread to colonies which became the early U.S., like the Town of Need
ham
where I grew up. The state north is New
HAM
shire, and '
shire
strongly resembles the word "gate" in Hebrew, so that translates to "New warm gate." The two words ei and taul sound like the name Italy from the prefix for 'island' and the word 'journey'. Greece sounds like the word for 'version of text'. The "Nativity Scene" probably originated from the word 'path'. The list goes on and on.
On the other side of the scale is the word 'Latin'. Torah used that sound for Pharaoh's witchcraft. 'Catholic' has roots or became the word 'carnage'. The Disciples names are like Hebrew conjugations; matt means death, mattoo a conjugation, tmattie a conjugation; or for repetitions patar means dismiss and poal means action.